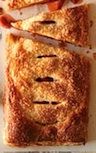 The newest dessert to Morris East features the utterly delicious, hand-crafted puff pastry from the Maritime Pasty Company at the Halifax Seaport Farmer's Market.

We urge you to buy their puff, what a treat!

Ingredients:
1½ cups sugar
½ cup cold water
¼ cup softened butter
1 tbsp lemon juice
6 Honey Crisp apples peeled, cored and diced
2 x 1lb sheet thawed all butter puff pastry
½ tsp cinnamon
egg wash (1 egg beaten with 1 tbsp milk)
coarse sugar
Directions:
In a large skillet cook the water, sugar, butter and lemon juice over high heat. When a pale amber color forms, reduce the heat to moderate and add the diced apples and cinnamon. Cook apples until soft, about 10 minutes.
Transfer and divide the cooked mixture into two bowls, seperating the apples from the caramel. Let cool.
Roll out puff pastry to 3mm and cut it into 10cm by 15cm rectangles. For each rectangle, brush the edges with egg wash. Place 3 heaping spoonfuls of the apple mixture on the righthand side of pastry followed by a drizzle of the saved caramel mixture. Fold pastry over to form books and press the edges to seal. With a sharp knife cut four slits in the top of the pastry, brush with egg wash and sprinkle with coarse sugar.
Bake at 375℉ for 15 minutes or until golden brown and your kitchen fills with the aroma of baked local apples.